If you're trying to decide between the Santa Cruz Nomad vs. Yeti SB165, then you've come to the right place. I've had the pleasure of riding a lot of mountain bikes, and I've got to say that these two beasts are brutal to choose which one's best. But we'll give it a go.
The Santa Cruz Nomad and the Yeti SB165 are two extreme freeriding champions of the mountain bike world. Both models attack the trail with incredible engineering yet provide unreasonably impressive traction, versatility, and stability.
Let's take a deeper look at these two freeride monsters and see what the specs are telling us and what some of the pros in the industry are also saying about these two MTBs. Let's get this rolling!
Santa Cruz Nomad Vs. Yeti SB165:
Profile – Yeti SB165
I will take you on a journey here to understand these two bikes and how they compare. First, we're going to profile the Yeti SB165 and see what's behind this gnarly-looking rough rider (that is surprisingly not rough at all).
One of the things that first struck me with this bike is the steep seat angle. It makes it comfortable and improves the climb more than I suspected it might.
The bike is nice and supple off the top when switching the lockout switch. I really like how that feature is dialed in on this bike to let you switch it and give your ride the perfect balance of smooth grip versus the swift return of other models of similar MTBs that make the recoil a nuisance.
The Yeti SB165 – A Technically Superior Ride?
Technically this bike behaves well. Or rather, it behaves really well. I mean, it looks like a beast that can't do uphill, but it's deceiving; it actually climbs well. Taking this bike out on some serious, technically challenging mountain bike trails only tests the rider's limits. This bike can handle it, believe me.
For a bike that comes with 27.5-inch wheels, it climbs uphill just fine. The tracking is excellent and clean with a smooth feel.
The travel for the SB165 is, you guessed it, 165mm. In the front, you've got a Fox Factory 38 GRIP boating 180mm of travel. And in the rear, there is a Fox Factory 65mm travel shock with either the DHX2 2-position lever or not on the T2 Float X2 model.
Price Of The Yeti SB165 For 2021 Into 2022
At the time of writing, the Yeti SB165 was selling for $4,500 (frame only) to $9,500 or more for the T3 model build.
The Yeti SB165 – The Feel
When you're riding the SB165, it feels like a playful bike, and it just makes you want to play. I got on this ride and just wanted to hit the dirt ramp park near my house. This bike feels like it's made to be a rascal on and off the trail. It screams you push the limits like few bikes I've ridden in the past.
It is a tremendous freeriding bike, like a complete spectrum demo sort of model meant to trap you with its abilities and impress you by handling the roughest rides you can throw at it.
The design of this bike is pushing freeriding style to the next new limit with its steeper seat angle. It makes the climb up much more comfortably; this bike can handle the ups and the downs.
It is the bike to go out and have fun. Works well for bike parks and woodland trail freeriding.
The Yeti SB15 is available in 7 configurations ranging from the frame only to the whole top model T3.
An excellent bike for pushing the limits and going where others are afraid to venture, I think the Yeti is definitely a force to be reckoned with; out on the trail, whether it's a highly technical single track or a freeriding MTB trail.
Although I might cringe at what this bike is capable of, if you're a rider who pushes the limits, this is one bike you're going to want to ride.
Overall Take On The SB165
This bike is a beast. It's a machine that yearns to go faster, go higher, go harder. I felt intimidated that the bike somehow knew I couldn't do what it was clearly capable of. If you're looking for a quality-built bike with a decent warranty, acceptable price point, and solid, if not aggressively engineered style that meets the craziest demands, then the SB165 might be your best option.
Source: Yeti Cycles
Santa Cruz Nomad Vs Yeti SB165:
Profile – Santa Cruz Nomad
I've talked about the Yeti, but we've got to also look at the legendary Santa Cruz Nomad if we're going to make a purely educated and enlightened decision about which bike is best.
I'll start by saying that one thing I love about all Santa Cruz bike frames, and this one is no exception, is the fine details. Take the cable routing, for example. The internal routing that Santa Cruz has set up on the Nomad is nothing short of superior. It doesn't rattle; it keeps lines tucked inside, out of harm's way, and it looks slick and refined.
This customized routing comes on a frame that weighs in at only 32.6 lbs, making it one of the lightest beasts on the trail.
The Nomad model became available in 2005 when this model was introduced to the world. That's now 16 years of fine-tuning and perfecting the engineering, the look, the feel, and the performance. It's hard to compare this kind of historical engineering to anything, but the Yeti still gives it a run for its money.
The Nomad Suspension And Feel
The Santa Cruz Nomad boasts the Virtual Pivot Point (VPPTM) suspension layout, a design in use at Santa Cruz since 2001. Again, we see that perfection comes with experience, and Santa Cruz has had 20 years of experience perfecting this pivoting system.
The 170mm travel front and rear mean that you've got what's needed to hit the trail – hard. One thing that is awesome, in my experience, with the way that Santa Cruz has set up their suspension system is that you can upgrade components and find parts pretty easily. Unlike some other companies, Santa Cruz makes bikes for the rider – not to sell some proprietary component that only works exclusively on their brand. It is something I value in a bike, being a bit of a tinkerer and more than competent at doing not only a few repairs but a complete build or tear-down.
Speaking of builds, the Santa Cruz comes pre-built with only a few things needed to get out on the trails. Of course, air pressure and a few tweaks to the setting will be needed when you pick up one of these bad boys, but you'll be on the trail the same day with little needed in the way of a significant assembly (unless you're upgrading components on your own, of course).
How The Nomad Has Evolved
Headtube shape changed a bit, but the overall look matches similar esthetics to other models currently produced by Santa Cruz. It gives a bit of a team Santa Cruz feel when you consider their lineup all at once, which I think is a neat concept, albeit useless to us on the trail.
What isn't useless is the frame materials and design. As mentioned, the headtube has changed a bit over the years, and the 77.5-degree seat angle has shifted but now sits at a steep yet comfy all-around perfect angle for hitting the trails, hills, mountains, jumps, and anything else you can throw this bike at.
Warranties Where It Matters For Santa Cruz
I feel it speaks volumes for a bike company because they are willing to stand behind their product. In the Santa Cruz Nomad case, the company has put all the chips on the table to stand behind their carbon fiber-framed product. Santa Cruz gives you a lifetime warranty on the frame.
Another cool thing that Santa Cruz has done is also offer a lifetime warranty on the lower links/bearing/pivot. They are saying that as long as you are around, these parts of the bike won't fail you, and if they do, then Santa Cruz will take care of it. Thanks pretty encouraging for a bike that's intended to be ridden hard.
The frame that carries this incredible warranty comes in two grades of carbon fiber, the C and the CC models. Both come with a lifetime warranty. The CC model is slightly more expensive and also slightly lighter weight as well. Either way, with the great attention to detail and lifetime warranty, I'm sure you'll be pleased with either.
Price Of The Santa Cruz Nomad For 2021 Into 2022
The current cost of the Santa Cruz Nomad comes in at frame only for $4,400 and goes up to $8,800 or more for the top model with the CC frame.
Mismatched Suspension Does Not Equal Mismatched Feel
When I first learned that the Nomad boasts Fox 38 Performance Elite Forks and a Rock Shox Super Deluxe Plus rear, I was a bit taken aback. I mean, why would Santa Cruz mismatch suspension on this incredible frame? Does it balance, or does it feel mismatched? I can tell you, it feels great.
Honestly, the mismatch is in such balance that it is evident that Santa Cruz meant these parts to work together in this configuration.
You can also grab a coil for the rear means that you can upgrade and tune the suspension to fit your exact riding preference. And the generic part use makes finding those upgrades relatively easy. Again, it's apparent this bike was designed for the riders.
Another thing that struck me about the suspension was how effortless climbing was. When I first looked at the lengthy design and taking the 27.5-inch wheels into account, I thought this might be a great trail beast with enthusiasm for downhill. However, it climbs much more straightforward than one might expect, making the bike far more versatile than it might appear at first glance. You need to ride it to feel what I mean – this is an aggressive bike, and it handles like it wants you to push the limits.
Overall Take On The Nomad
The Nomad is great for technical travel, freeriding up and downhill, but very strong in uphill against what one might expect. The price is on par with what one would expect for a bike of this quality. But its performance is, in my opinion, a little more conservative than compared to the Yeti. However, the fit and finish, the small attention to detail, and the suspension engineering all seem to be a tad superior to the Yeti.
The smooth return on the shocks helps for a smooth ride over big bumps. I like how it feels when dialed in, and I think overall, this bike has a good blend of characteristics for a 27.5-inch MTB.
For fun riding, this is the mountain bike (not necessarily for racers, though).
This mountain bike is easy to ride and has excellent suspension to get you out of trouble, according to Mike Kazimer of Pinkbike. It is your do-it-all mountain bike, the Santa Cruz Nomad.
Source: Santa Cruz Bicycles
Santa Cruz Nomad Vs. Yeti SB165 – The Verdict
After careful consideration, I think both of these bikes take the prize – in their way. Let me explain.
The Nomad is a phenomenal bike. What it lacks compared to the Yeti is aggressiveness. Yet, the Yeti lacks the fine point fit and finish that the Santa Cruz has obviously and painstakingly engineered into the design.
The Nomad is a more refined freeriding MTB, while the SB165 is a more aggressive adventure-bound beast. Not to say the Nomad can't hold its own – oh, believe me, it can, but it's been a while since a bike made me feel like it could easily outdo me on the trail. And that's precisely what the Yeti did. Final thoughts? The Santa Cruz is like a rally car drifting monster, classy yet powerful. Refined and finely tuned. The Yeti is like that wild card that you don't know what it's going to show you next. Will it be a handgun or a bazooka? It all depends on you – the bike can handle it. So, if you're looking for a more refined ride, go with the Santa Cruz. If you're looking for a more extreme ride, go for the Yeti. But you're going to love either choice; if I had the money, I'd buy both.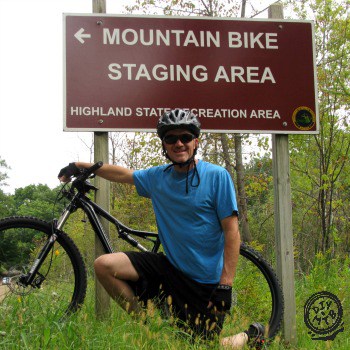 David Humphries is the creator of DIY Mountain Bike. For me a relaxing day involves riding my mountain bike to decompress after a long day. When not on my bike I can be found wrenching on it or making YouTube videos at 👉 DIY Mountain Bike Read more about David HERE.