Okay, if you're finding this article you LOVE the outdoors as much as I do. I'd like to say Park City, UT is a secret but over the last couple years I think the word has "gotten out".
Park City is a very popular destination among mountain biking enthusiasts. With over 150 miles of trails, Park City offers mountain bikers, whether amateurs or professionals, numerous options for their biking excursions.
The town is super bike friendly and encourages everything with two wheels. From winter riding to serious downhill descents that scare me.
Mountain biking in this area is quite an experience because not only do bikers get to pick the level of difficulty of the trail, they will ride but they are also awarded with spectacular views of the mountains and forest.
Park City's Easy Trails
Some of the easy bike trails that are family friendly and provide the perfect tour of town and the surrounding area.
Perfect for a novice and folks with electric bikes that want to experience everything Park City offers. Personally, exploring on two wheels is the best way to see the sights. Most restaurants and hotels accommodate MTBers.
So, saddle up and checkout these trails:
Rail Trail
This easy trail is 30 miles long and follows an old railroad route. It is characterized by gradual changes in elevation and gentle curves. It is ideal for families who want to go mountain biking together and would like to have a picnic by the side of the Echo Reservoir. The ideal time to ride this trail is from April to November.
Map to the Union Pacific Rail Trail
The Rail Trial is park of the Utah State Parks Department. The trail traverses' areas rich in cultural history from the Wasatch Mountains near Park City, across wetland meadows in Silver Creek Canyon, through the towns of Wanship and Coalville, and along the Weber River to Echo Reservoir. Read more HERE https://stateparks.utah.gov/parks/historic-union-pacific-rail-trail/discover/
Beaver Creek Trail
This is another easy trail that will allow bikers to enjoy a leisurely ride through the forest and by the stream. It is 4.5 miles long and passes through several Forest Service campgrounds. This is another family-friendly trail where the opportunity to see beavers in their natural habitat could prove to be a real treat for youngsters.
Pro Rider Tip: I don't need to tell you how awesome riding in Utah is. I've got a guide written by PRO rider Hannah Finchamp detailing the BEST places to ride. Check out 15 Best Places to Mountain Bike in UTAH
Park City's More Difficult Trails
For bikers who seek more of a challenge, these I consider an intermediate level with high altitude endurance required. Plan for a full day, water your kit should include all those items needed for some major single track trails.
My trails are recommendations:
Deer Valley Resort
This has been identified as a classic must-ride. Deer Valley Resort is famous for its lift-served trails. Mountain bikers who enjoy riding downhill but would rather not suffer through the uphill climb will appreciate the various downhill trails found at the top of the lift. The best time to try Deer Valley is between July and September.
Flying Dog in Glenwild Area
Another more difficult trail is the Glenwild Loop. It is classified as an intermediate-technical loop and is about 10 miles, but you can extend your ride to 23 miles if your legs can handle it. 
Flying Dog can be quite fun for bikers who are polishing their technical skills and who want a peek into the various ecosystems in Park City. The best time to ride this trail is from mid-May to October.
Where to Park – Glenwild Tailhead
A Favorite Flying Dog Ride
For a simple loop, turn onto Flying Dog from trail 24-7, then fork to the right and ride uphill on the Preserve Connector trail. At the peak, fork left to western side of Flying Dog to return to 24-7.
Park City's Most Difficult Trails
If you're experienced and want to test your skills. Park City has a number of "most difficult" trails to choose from. These trails will test your strength climbing and skills descending. Two of my favorites are:
Mid Mountain Trail
This trail runs along 20 miles of the mountains of Park City at a level of 8000 feet. The ride may be tailored according to the preference of the biker but has been labeled "most difficult" because of the elevation change, length, and rocky sections. The Mid Mountain Trail is best tried from mid-June to September.
Find the Trailhead to Mid Mountain Trail
A Ride Option for Mid-Mountain
One of my favorite routes for riding Mid Mountain: start your ride at the base of Park City Mountain at the trailhead. Fill your bottles and get prepared for some work. Climb up Armstrong, which is uphill-only (for bikers). Four miles in, you'll merge from Armstrong into Mid Mountain. Cruise across to Deer Valley Resort. Then keep cranking to Silver Lake area, and drop down via Deer Crest Trail.
Why I love this route is the climb comes early and then the decent give you a chance to cruise and enjoy the views.
Shadow Lake
For mountain bikers up to the challenge, Shadow Lake is a 15-mile trail that has been labeled "most difficult" mainly due to the uphill climb. It goes through Park City Mountain Resort and is best tried when the snow has melted in June. It may be enjoyed all the way to September.
The Parking Lot to Shadow Lake
Park City's Extreme Trails
Park City also has trails for extreme mountain bikers who love a good challenge. If you're seriously looking to up your MTB game. The Park City won't disappoint. A couple classics that the locals love are:
Tour des Suds
This is the most well-known of the Park City trails. It is a genuine cross-country trail that is guaranteed to give a fun ride. The best time to go on this extreme ride is between June and September.  Link to trailhead -> HERE
With an endless list of trails to choose from, Park City is the perfect destination for mountain biking aficionados.
Want to Downhill Mountain Biking in Park City – Where to Go
This isn't "true" downhill but riding Canyons Park Downhill will give you a taste of a lift served trail ride with plenty of obstacles to test your skills and the strength in your legs.
While there are no true downhill or gravity style trails like at Deer Valley or Canyons, getting a lift up Crescent to ride the Wasatch Crest is a great option.  Get a trail map HERE
Bike Shops to Keep You Cranking
Park City Bike and Demo, the shop sells, services and rents bikes.  Perfect for that last second trip and need to stretch your legs on two wheels. Link ->  https://www.parkcitybikedemos.com/
Contender Bicycles with sales and service.  They specialize in ORBEA and Santa Cruz so a truly legit LBS. https://contenderbicycles.com/
Where to Rent a Bike in Park City
I mentioned Park City Bike and Demo above.  If you're looking for an ebike to help you get around check out Pedego Electric Bikes.  New, used, rentals and tours.  Link
Wanting to Investigate a Park City a Bit More?
Below are some helpful links to the area: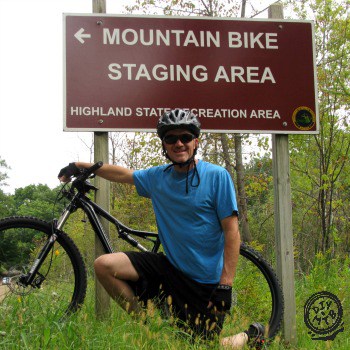 David Humphries is the creator of DIY Mountain Bike. For me a relaxing day involves riding my mountain bike to decompress after a long day. When not on my bike I can be found wrenching on it or making YouTube videos at 👉 DIY Mountain Bike Read more about David HERE.