Mountain biking in Sedona could be an amazing experience for most people. There are many beautiful trails in this area who can offer you that ultimate experience for mountain biking and experiencing this sport at its fullest.
If you are sick of mountain biking in different areas, Sedona is the perfect getaway for any advanced mountain biker. Sedona, Arizona is a popular place to enjoy mountain biking, and with Arizona being known for the hot weather and big mountains, there is no doubt that you will enjoy mountain biking in Sedona.
What Are the Main Mountain Bike Trails in Sedona?
Sedona has hundreds of miles of trails with a wide range of difficulty. The list below gives you some names that the locals will know you've experienced "Sedona".
Trail Names:
Hiline Trail
Slim Shady Trail
West Side Beginner Singletrack
Broken Arrow / Hogs Ride
All four of these trails are very popular and can give you that perfect experience for mountain biking in Sedona. What you need to know is that all four are not easy to take on. They are not easy by anybody's standards, but they can still be done by being prepared as much as possible.
1. Hiline Trail – Extreme
Difficulty Rating = Double Black Diamond (for advanced riders)
It was once said that to enjoy this entire trail the most, start at the parking area Yavapai Point Parking and ride the Slim Shady to the Hiline cut.  This is the real deal steep – descents, and riding on cliff edges.  Since Arizona is a hot place, many people recommend that you bring along at least two bottles of water. It can get hot while you're on all of these trails.
Map to Parking for Hiline Trail
How Long is the Hiline Trail?
The trail is just over 3 miles in length but getting to the trail can vary the miles. I recommend thinking about an 8-mile ride. Once on this trail, you don't have many bailouts.
2. Slim Shady Trail – Experienced Riders
Difficulty Rating = Blue Box (Intermediate)
This is probably the definition of riding in Sedona. Hard pack, flowy and a good mix of elevation change. Expect to climb close to 900 feet over the 10 miles. You've got a couple options for parking and trailheads so select wisely. I prefer the Yavapai Point described above but you can also park at Bell Rock and get warmed up on a couple hills before hitting the Slim.
The trail connects to Llama, and the Bell Rock Pathway in case you want to bail. Most difficult places are walkable, but test your skills with a great blend of firm hard-pack and great descents.
The Slim Shady is maintained by the Sedona Red Rock Trail Fund – consider joining or donating. https://redrocktrailfund.org/
Map to Slim Shady Trailhead
How Long is the Slim Shady Trail?
Plan for just over 10 miles of the Slim. Getting to the cut-off from Bell Rock Pathway will add just over 2 miles. A couple bail out points in case of break downs.
3. West Side Beginner Single Track – Easy Great Group Ride
Difficulty Rating = Green Circle (Easy)
This is probably one of the easiest because of the different stops there are available. There's a nice creek that can give you a bit of fresh water to splash onto your face. This is the trail known more for its several secrets across the mountain. With great views of Long Canyon and super smooth trails this is a great group ride. A couple turn-offs can add some challenge, in particular the Mescal is popular.
Map to West Side Trailhead Parking
How Long is the West Side Singletrack?
Plan for slightly over 6 miles. I really enjoy the initial climb and the mostly downhill ride after 2 miles of riding. Once back at the trailhead you can decide to go again or turn off onto the Mescal Mountain trail.
4. Broken Arrow / Hogs Ride
Difficulty Rating = Single Black Diamond (Advanced)
One tip I can give when going through the Broken Arrow is to make sure to slow down during most of the trails. The entire area is very accessible to Jeeps and off-roaders and folks can be walking of motorcycling close by.
You've got to check the views and Chicken Point – spectacular!
Map to Broken Arrow Trailhead
How Long is Broken Arrow
Don't let the distance of less than 10 miles foul you. Broken Arrow has over 1200 feet of climbing. The last couple hills are a punch in the legs so PACE yourself.
When to Plan a Biking Trip in Sedona
Mid-summer Sedona is hot. The July temps will reaching the triple digits on average 5 days. Riding in that kind of heat is dangerous, so I don't recommend trips from June through August.
I've found the best time of year is early spring (March and April) and late fall (October and November).
| | |
| --- | --- |
| Month | High / Low Temperatures |
| October | 80° / 50° |
| November | 68° / 41° |
| March | 69° / 40° |
| April | 76° / 45° |
During these times it's warm enough to enjoy the ride, but cool enough not to overheat.
The Sedona Experience
Mountain biking in Sedona could be an amazing experience for many people. The excitement involved can be found in each of those trails. I highly recommend that you visit all of those trails over a five-to-ten-day period. They are simply breathtaking when you visit each one and pay attention to the small details of every trail.
Bike Shops in Sedona
If somethings broken, or you need to plan your day.  Thunder Mountain Bikes is where you need to go.  Experienced in all things MTB.  Offering Rocky Mountain, Santa Cruz and Ibis bikes for sales trust that Thunder Mountain will get you back shredding some dirt. https://thundermountainbikes.com/
Absolute Bikes has shops in Sedona and Flagstaff.  With Specialized, Pivot and Marin bike brands.  Truly a full-service shop supporting sales, service, rental and the growing eMTB trend. https://absolutebikes.net/
Bike and Bean is a great place to rent an MTB or even and join a group ride.  This is the secret "in" place for true Sedona riders. https://www.bike-bean.com/about
Are Ebikes allowed in Sedona?
In the Sedona area eMTBs are considered Off-Highway Vehicles (OHV) https://www.blm.gov/programs/recreation/OHV grouped into the same territory as motorized dirt bikes. Don't let that turn you off though. Sedona has so many trails riding OHV isn't necessarily bad. I'd recommend Cliffhanger OHV.
Cliffhanger is 3.3 miles long and has about 300 feet ascent/descent. Mostly dirt roads but the views are fantastic.
Frequently Asked Questions – You Need to Know Right?
Is Sedona Bike Friendly?
Heck Yes!  With bike fix stations spread through the community and local clubs and businesses cleaning, repairing and planning for biking.  Sedona is becoming a rising bike mecca.  Read on the city website about the Rides and the Sedona Mountain Bike Festival – HERE
Does Sedona have Paved Bike Trails
They sure do. Sedona has a system of bike lanes and well-groomed trails to experience the sights on two wheels. The folks at Sedona Tours and Rentals have tours using electric bikes. Check it out HERE.
Where to Stay When MTBing in Sedona
Looking to pamper yourself after your ride?  Enchantment Resort is for you.  Located close to 300 miles of mountain biking and hiking trails.  The "Trail House" provides descriptions and becomes a meeting place for "Sedona Outdoors"  Cost per night $600 to $1200.
Bike rentals and servicing is available onsite.  Stock up on food and water, then do a little "tech" talk with the guides.
For the budget minded, I recommend Baby Quail Inn.  Clean affordable and built with the rider in mind.  Soak in the hot tube to work out the aches and enjoy the beauty of Sedona.  Minutes from the trails with enough property to spread out bikes and vehicles.  Prices per night $110 to $160 😎 Baby Quail is a true mountain bikers gem.
---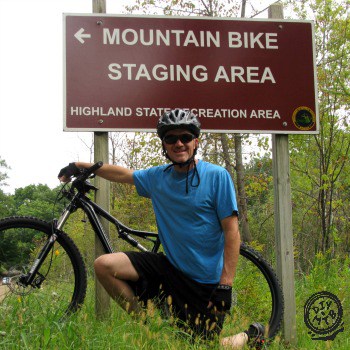 David Humphries is the creator of DIY Mountain Bike. For me a relaxing day involves riding my mountain bike to decompress after a long day. When not on my bike I can be found wrenching on it or making YouTube videos at 👉 DIY Mountain Bike Read more about David HERE.