If you love dirt roads and exploring two tracks the Himiway Cobra is for you. You'll be able to cruise along silently and see wildlife without breaking a sweat.
The massive 48-volt, 20aH battery coupled with the power of a 750-watt rear hub motor will get you where you want to go and have the battery capacity to get you back.
Exploring on two wheels is my favorite way of getting outdoors. The benefits of full suspension and torque-sensing power delivery make rolling down a dirt road a pleasure.
Let's dive a little deeper into my experiences with this two-wheeled marvel.
DIY Mountain Bike Recommendation: I've fallen in love with this bike. It fits perfectly into the style of biking I enjoy – Exploring dirt roads and scenic trails. The power and battery capacity has provided the confidence to log 50 miles in a single ride.
If this appeals to you seriously consider the Himiway Cobra 👈 Link to Himiway for more information
First Impressions
The Himiway Cobra is not just a bike; it's a statement. With its impressive 51-inch wheelbase, it stands out even before you take it out of the box. The assembly process is straightforward, taking just about 30 minutes, including the time to unbox it.
First Ride on the Himiway Cobra
The extended wheelbase ensures stability and smooth tracking. Within the first few moments on the bike, I tested its suspension by rolling down a flight of stairs. The suspension held up well, but I quickly realized the need to adjust the tire pressure from the 30 psi I started with.
The torque-sensing pedal assist system complements my love for pedaling, and the 750-watt rear hub delivers power smoothly across different pedal inputs.
Specifications of the Himiway Cobra
Quick Specs – Himiway Cobra
Price: $2,399
Style: Full Suspension Fat Tire Electric Bike
Motor: 750-Watt Bafang Rear Hub with Torque Assist
Battery: 48v, 20aH Samsung cells
Range and speed: estimated 80 miles and 25 mph (unlocked)
Cobra Comfort and Components
When assessing an electric bike's comfort, I focus on touchpoints and the rider's position. The Himiway Cobra is designed as a robust off-road mountain bike, necessitating a forward-leaning aggressive body position for optimal balance and control on trails.
For trail enthusiasts, the Cobra is almost perfect. However, for more relaxed rides, like those on forest tracks, I'd recommend a shorter stem and handlebars with a slight rise. The seat is comfortable, unlike the typical off-road MTB seats, ensuring a comfortable ride over long distances.
While the pedals might need an upgrade for better foot support, the ergonomic grips with a locking screw are a delight.
Cobra Components
Himiway has invested in the bike's foundation, evident from its full suspension, Bafang 750-watt motor, and the massive 48-volt 20aH battery. The hydraulic Tektro brakes are efficient, and the 95mm travel Guide RST front fork is commendable.
The display is easy to read detailing all the essential information. Speed, battery voltage, motor power, and an integrated USB charging port.
Tires: The colossal 4.8-inch wide tires, when adjusted to your riding preferences, offer exceptional traction on terrains that might intimidate many riders. I recommend starting with a tire pressure of 10 to 12 psi for optimal performance.
However, the rear shock could benefit from better dampening. The 7-speed Shimano Altus rear derailleur on a freewheel hub might not be the best in the market but does the job.
Experience the Cobra: Watch It in Action!
Words might not do justice to the Cobra's capabilities. Dive into this video to witness its prowess firsthand.
Range and Speed of the Himiway Cobra
After 70 miles, I felt fully attuned to the Cobra, ready to test its range and speed. The battery's durability is commendable, with only a single bar dropping at the 31-mile mark.
Even at 60% battery life, the Cobra's performance didn't wane. I managed a total of 52 miles, with some battery life still remaining. On a smooth surface, the Cobra can reach speeds of up to 25 mph, but with added pedal power, I touched 34 mph.
Hill Climb and Trails
The Cobra's hill-climbing prowess is impressive, easily managing steep inclines. While it might not be ideal for tight trails due to its long wheelbase, it's perfect for flowy trails, especially with its 4.8-inch wide tires and full suspension.
Stand Out Features of the Cobra
The first word that comes to mind is value. I'm not seeing any other eMTB's that offer the standard features that the Cobra provides. Full suspension and massive 4.8 inch wide tires to soak up and stick to most terrain. Torques sensing power delivery to provide a natural pedaling experience.
The 750 watts of power and 20aH battery capacity give you the confidence to explore a little farther with the confidence you'll get to where you want and return.
Riding Modes of the Cobra
The Himiway Cobra offers a versatile riding experience, catering to various preferences. Whether you want a natural ride, a boost, or a combination of both, the Cobra has got you covered.
1. Pedal Assist:
Pedal assist, often abbreviated as PAS, is a mode where the motor provides assistance only when you pedal. The Himiway Cobra comes equipped with an integrated torque sensor, which makes the pedal assist experience more intuitive and enjoyable. Instead of just accelerating to a preset speed based on the level of assistance you've chosen, the bike responds to the force of your pedaling.
2. Throttle Only:
In this mode, you don't need to pedal at all. By simply engaging the throttle, the motor propels the bike forward. It's similar to how a motorcycle or scooter operates. The Himiway Cobra's powerful Bafang 750-watt motor ensures that the bike can tackle almost any terrain in this mode.
However, using throttle only will generally consume more battery than pedal assist, especially if you're accelerating hard or going uphill. It's perfect for those moments when you want to rest your legs but keep moving.
3. Pedal Only:
In this mode, the e-bike functions like a traditional bicycle, where you rely solely on your pedaling power to move. The motor provides no assistance. This is ideal for riders who occasionally want to get a workout or when the battery is low or depleted.
Given the Himiway Cobra design and weight, pedaling without any assistance might be more challenging than on a regular bike.
Where the Cobra Shines
The Cobra is perfect for those who love exploring dirt roads and trails. Whether you're sightseeing on forest trails or taking a detour to a coffee shop, the Cobra ensures a comfortable and adventurous ride.
Detailed Cobra Specifications
Brand and Model: Himiway Cobra Electric Mountain Bike
Design Inspiration: Full suspension eMTB, inspired by the adaptability of cobras to survive in extreme environments and traverse any terrain.
Assembly: Typically takes customers between 30 to 70 minutes.
Suspension: Four-bar 190mm rear suspension system with front 95mm travel Guide RST fork.
Motor: Upgraded 750W geared hub motor with 1000 watt peak power
Motor Torque: 86 Nm through the geared hub motor
Battery: 960 WH:

48V 20Ah Samsung/LG lithium battery integrated into the frame.
Fast charging capability.
Estimated range of around 40 to 80 miles. I logged over 50!

Brakes: Tektro hydraulic two piston disk brakes with 180mm front and rear rotors.
Tires: 26×4.8-inch CST tires suitable for various terrains.
Drivetrain: Shimano 7-speed drivetrain with a Tourney shifter and an Altus derailleur.
Pedal Assist: Features a torque sensor for more responsive pedal assist, with 5 pedal assist settings.
Throttle: Unlocked to Class 3 settings with a max speed of up to 25 mph while pedaling and 20 mph on throttle alone.
Payload: 400 lb. Capacity
Rider Height: Recommended for 5'5" to 6'5"
Frame: Made out of 6061 aluminum, with a tall standover height and a long wheelbase.
Weight: 88 lbs.
Price: $2,400
Conquering Trails with the Cobra
The Himiway Cobra eMTB has been amazing at opening up places to see and providing a bit of exercise along the way. (The benefit of a torque sensing drivetrain)
Whether you're charting unknown dirt paths, gliding through serene forest trails, or taking a leisurely detour to your favorite coffee haunt, the Cobra ensures every ride is an adventure.
Would I vouch for the Cobra? Absolutely! If the experiences I've shared resonate with your riding style, the Cobra is tailor-made for you.
Check out the Cobra on the Himiway Website 👉 Himiway Cobra Electric Bike
Boasting remarkable specifications and stellar performance, it provides unmatched value for its price bracket. So, if you're scouting for an eMTB that ticks all the boxes, look no further – the Cobra awaits.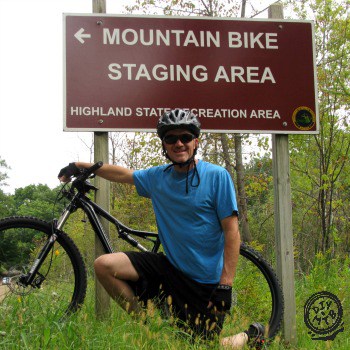 David Humphries is the creator of DIY Mountain Bike. For me a relaxing day involves riding my mountain bike to decompress after a long day. When not on my bike I can be found wrenching on it or making YouTube videos at 👉 DIY Mountain Bike Read more about David HERE.