Now that summer is here, we are already thinking about what races and tour rides we are planning on doing for up until the end of the year. A type of ride that is a must for everyone of all cycling abilities is to complete a 100-mile bike ride. This consists of hours of training, a bike that is well maintained, and also the love of being outdoors for hours at a time.
When it comes down to training for a 100-mile ride, there are some tips to keep in mind when training.
1. Get a reasonable amount of sleep each night as you will need to let your body recharge itself after a long each day of training and to also prepare yourself for the next day's amount of time on the pavement.
2. Don't overdo it. What I mean is begin to start your training about 2-3 months prior to your 100-mile ride. Only increase your weekly mileage by about 10% each week. Over doing it could cause injury.
3. Alternate your easy days and your hard days. If you do a hard workout that consists of a high number of miles and/or lots of hills, you may want to take the next day off from cycling. Or possibly doing either a shorter ride that isn't as intense, or cross-training with a sport that doesn't work your legs such as swimming or kayaking.
DIY MTB Pro Tip: Learning how to do correct MTB Cardio Training is critical to staying strong in a century ride. Read about cardio training for MTB in this article: How to ride MTB for a Cardio Workout
4. Good nutrition is key! When training for such a long event, you want to be sure you are getting the most out of every food that goes into your body. The occasional candy bar or half gallon of ice cream isn't too bad, but you should stay away from these foods as they may decrease your overall potential.
5. If your century will be with a large group of other cyclists, and you are not used to drafting off of others and not used to having someone right on your wheel, then it is best to do some group rides with a local bike club or your local bike shop. The last thing that you want to do is cause a multi person pileup 'cause you touched wheels with someone else.
6. Be sure to train on the hills if you will be completing a 100-mile ride that has lots of hills. If possible, try to push yourself on the hills in order to gain stronger leg muscles and more mental toughness.
7. Train on the same type of roads that you will be doing your century on. You may need to prepare yourself for technical descents, rough roads, wet, and even roads that have cobblestones!
DYI MTB Pro Tip: Pacing yourself is critical when your pushing the your endurance limits. Pro Rider Hannah Finchamp wrote this amazing article – How to PACE Yourself Mountain Biking
As you can see, there are many things to consider when preparing for your upcoming 100-mile tour ride. These are just a few of the important idea's that I know of that will help you. I believe that with the right training, nutrition and proper bike for your event, you will easily be able to slice through any 100-mile tour ride.
My knowledge of completing a century comes from completing the Highlander Cycle Tour. Located in Canandaigua, N.Y., U.S.A. The distance covered 105 miles through the finger lakes region of New York state and had about 18 hills to ascend. The total elevation gain throughout the entire ride was about 11,000 feet as the final climb came in at the 99-mile mark with more than a quarter mile of the hill at a 23% grade!
Get a FREE Indoor Workout Plan – Easy just download HERE
---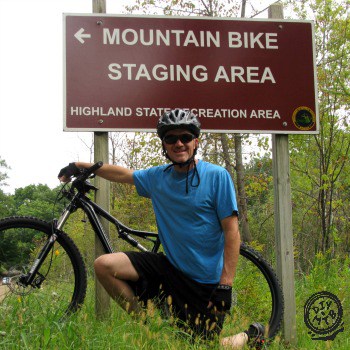 David Humphries is the creator of DIY Mountain Bike. For me a relaxing day involves riding my mountain bike to decompress after a long day. When not on my bike I can be found wrenching on it or making YouTube videos at 👉 DIY Mountain Bike Read more about David HERE.