No one can deny that Raleigh is one of the most popular brands for mountain bikes. From kids to adult MTBs, this brand has suitable mountain bikes for all ages and genders. But with all the choices available, some cyclists find it a little challenging to choose the best model.
We bring you our Raleigh Mountain Bike Review to help you find a durable mountain bike for your off-road adventures.
1. Raleigh Redux Hybrid Mountain Bike – Best Overall
Quality: 4
Performance: 4.5
What We Like:
A mountain bike that also works as an all-around bike
Features alloy pedals
Has excellent grip and cushion
Want more info about the Redux Hybrid? Here's a link to Amazon to see what others are saying. 👉 Raleigh Redux Hybrid Mountain Bike
The Drawbacks:
The handlebars are a little wide, making it challenging to fit into tight areas
Best Features
For people looking for the best Raleigh Mountain bike that can tackle both the trail and road, the Raleigh Redux Hybrid Mountain Bike is a must-see. This bike has a durable frame that can take the beating of bumpy and technical trails. The frame tubes are thinner in the middle and thicker at the welds, making them highly sturdy.
Additionally, the Raleigh Redux has the Shimano Acera 8-speed rear derailleur drivetrain. This gear makes ascents and flat terrains easy to tackle. The drivetrain pairs with the Shimano SL-m310 shifter, which is light, consistent, and easy to control.
Making conquering trail obstacles a breeze, the Raleigh Redux features 27.5-inch wheels with excellent traction, grip, and cushion. These wheels are also lightweight. For these reasons, the Raleigh Redux is highly maneuverable and allows you to accelerate fast. (source)
When it comes to Raleigh Bikes, I've got you covered. Check out these articles:
2. Raleigh Bikes Talus 2 Mountain Bike – Best for Comfort
Quality: 5
Performance: 5
Considering the Talus 2? Here's a link to the Raleigh website to see what others are saying. 👉 TALUS 2 MOUNTAIN BIKE
What's Good:
Features an ergonomic design
The brakes are reliable
Budget-friendly
The Drawbacks:
Some riders find the bike heavy
The 740mm handlebars are a bit narrow
Best Features
This mountain bike boasts a lightweight and sturdy AL-6061 custom-butted aluminum frame. Such an aluminum frame does not easily corrode, making the Raleigh Talus 2 a low-maintenance mountain bike.
The Raleigh Talus 2 Mountain Bike has a 21-speed Shimano drivetrain that is especially useful during climbs. This drivetrain, along with the SR Suntour suspension fork and Tektro mechanical disk brakes, makes the Talus 2 a high-quality bike for trail adventures.
Moreover, this mountain bike features a pair of RAIL 27.5 x 2.25-inch tires. This type of wheel is perfect for intermediate and professional riders. The reason is that it provides a good amount of grip, especially when taking sharp turns. (source)
3. Raleigh Rowdy 20-Inch Mountain Bike – Best for Beginners
Quality: 4
Performance: 4
What's Good:
It comes in excellent quality and a reasonable price
Lightweight
It has a sturdy frame and wheels
Want more info about the Rowdy? Here's a link to Amazon for reviews and current prices. 👉 Raleigh Rowdy 20-Inch Mountain Bike
The Drawbacks:
The handlebars are a bit low for the seat height
Best Features
The Raleigh Rowdy Mountain Bike boasts an aluminum frame that weighs 21 lbs. The frame is lightweight, so you can ensure that the bike is easy to maneuver, even on hard-to-conquer trails. Even better, the sturdy frame of this mountain bike can absorb shock and vibration to keep cyclists comfortable as they take on bumpy tracks.
In addition to the durable frame, the Raleigh Rowdy has a 6-speed Shimano Revo grip shifter. This speed range allows the bike to conquer uphill and flat terrain. The shifter pairs with wheels that measure 24 inches and 2.125 inches wide. This wheel size makes the Raleigh Rowdy a good bike for tackling terrains regardless of their difficulty. (source)
What Are the Benefits of Using a Mountain Bike?
Mountain biking is one of the most popular outdoor recreational activities. This sport brings a sense of enjoyment and adrenaline to cyclists. In the US alone, nearly 40 million cyclists participate in mountain biking every year. It shows that mountain biking is one of the most popular biking disciplines. (source)
These statistics pose the question – why do many people choose mountain bikes over other types of bikes? We have the answers:
Mountain Bikes Are Lightweight
The weight of mountain bikes makes them easy to maneuver. Their weight makes pedaling easy, so you can quickly increase your speed whenever possible. The lightness of mountain bikes also allows cyclists to easily take on uphill trails without exerting so much energy and effort.
Additionally, mountain bikes can absorb shock and vibrations due to their lightness. So, even in rough off-road places, you can ride comfortably without feeling too many vibrations.
Mountain Bikes Are Resilient and Rugged
Manufacturers intricately design mountain bikes to ensure the safety of those using them. They possess cutting-edge technology, so mountain bikes remain extremely durable even if they are lightweight. For this reason, they can withstand the abuse, such as falls from hills and bounces caused by obstacles on the trails.
Mountain bike wheels also improve rider safety. The reason is that manufacturers gave them good traction even when the trails are slippery. So, if you need to make a sudden sharp turn, the wheels' grip will reduce the likelihood of falling and meeting an accident.
That said, one of the benefits of using a mountain bike is increased safety regardless of the trail condition. (source)
Mountain Bikes Come in A Variety of Types
There are five types of mountain bikes that cyclists can choose from:
All-Mountain Bike
Cross Country Bike
Fat Bike
Hardtail Bike
Trail Bike (source)
These types of mountain bikes are ideal for different biking disciplines. For instance, a fat bike is the best choice if you want to mountain bike in sand or snow. On the other hand, if you wish to do long-distance riding, a cross-country bike will prove to be beneficial.
Tips To Ensure Safety When Mountain Biking
While bike manufacturers made mountain bikes with the rider's safety in mind, it is still essential to be cautious when out on the trail. Here are some tips to ensure your safety as you enjoy mountain biking:
1. Always Check Your Bike Before Going on a Trail
Before going into a trail, you must conduct a thorough checkup on your bike. This way, you will see if there is any issue with the bike, such as a flat tire or failing brakes. You also need to lube up your chain to work well regardless of how difficult a trail is.
Failure to check your mountain bike before going on an adventure may result in various inconveniences and even accidents. So, even if you are confident with the condition of your mountain bike, make sure to do a checkup before every adventure.
2. Avoid Standing Up in the Middle of the Trail
Once you are already out for a mountain biking adventure, one thing you should never do is stand up in the middle of the trail for an extended period. You never know when there will be a fellow mountain biker pedaling fast in your direction. If you stay on the trail, there is a big chance that a biker will collide with you, resulting in both of you getting hurt.
3. Always Wear Protective Mountain Biking Gear
Mountain biking is both fulfilling and a bit dangerous. For this reason, it is important to wear complete gear whenever you go out for an adventure. This gear includes:
a helmet
kneepads
chamois
eye protection
elbow pads (source)
One More Crank on the Raleigh Pedals
After thoroughly checking the top Raleigh bikes, the clear winner in the Raleigh Mountain bikes review is the Raleigh Redux Hybrid Mountain Bike. It can take on rugged trails, and cyclists can also use it for urban riding. This hybrid mountain bike is also ideal for many riders as it is easy to maneuver.
The Raleigh Redux is also lightweight, allowing you to easily conquer trails regardless of their condition. The wheels have good traction, and the entire bike is engineered to be durable.
---
Looking for Some More Ways to Help Your Bike Last
---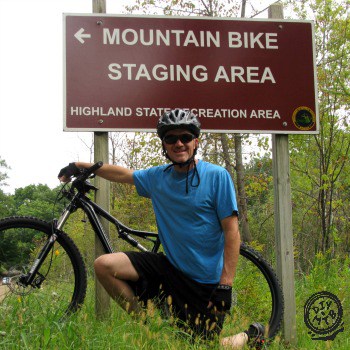 David Humphries is the creator of DIY Mountain Bike. For me a relaxing day involves riding my mountain bike to decompress after a long day. When not on my bike I can be found wrenching on it or making YouTube videos at 👉 DIY Mountain Bike Read more about David HERE.
Sources
A big thanks to Raleigh for making great affordable bikes. Image credit Raleigh
Raleigh Bikes Redux Hybrid Bike. Amazon. https://www.amazon.com/Raleigh-Bikes-Redux-Mountain-Girls/dp/B07D8Q69QR/ref=sr_1_4?crid=30S9O8QVU3TFU&keywords=raleigh%2Bmountain%2Bbike&qid=1660534482&sprefix=raleigh%2Bmountain%2Bbik%2Cspecialty-aps%2C244&sr=8-4&th=1&psc=1. Accessed August 15, 2022.
Raleigh Bikes Tokul 24 Kids Mountain Bike for Boys & Girls Youth 8-12 Years Old. Amazon. https://www.amazon.com/Raleigh-Bikes-Tokul-Mountain-Girls/dp/B07D8LM2XC/ref=sr_1_5?adgrpid=81816131496&gclid=Cj0KCQjwuuKXBhCRARIsAC-gM0it8Un7U__ApsKNjG-vEAWCtRCPksOrLz26aw4SgAoXzQPKEL7m23kaAqaAEALw_wcB&hvadid=585362809884&hvdev=c&hvlocphy=20820&hvnetw=g&hvqmt=b&hvrand=11409577005672898102&hvtargid=kwd-30417103&hydadcr=22335_13333110&keywords=raleigh+bikes&qid=1660532972&sr=8-5. Accessed August 15, 2022.
Raleigh Bikes Rowdy. Amazon. https://www.amazon.com/RALEIGH-Bikes-Rowdy-Mountain-Youth/dp/B07FF9PR8L?ref_=ast_sto_dp&th=1. Accessed August 15, 2022.
Paul Molenberg. Let's Mountain Bike!: The Complete Guide to Mountain Biking. USA: Gatekeeper Press, 2019. https://books.google.com.ph/books?id=pfqdDwAAQBAJ&printsec=frontcover&dq=What+Are+The+Benefits+Of+Using+A+Mountain+Bike%3F&hl=en&sa=X&redir_esc=y#v=onepage&q=What%20Are%20The%20Benefits%20Of%20Using%20A%20Mountain%20Bike%3F&f=false. Amazon. Accessed August 15, 2022.
Eric McNamara. The Dummies Guide to Mountain Biking. Lulu Press, 2015. https://books.google.com.ph/books?id=ZF0QCwAAQBAJ&pg=PA7&dq=types+of+mountain+bikes&hl=en&sa=X&ved=2ahUKEwiGkM7-qcr5AhV-plYBHYwxCF8Q6AF6BAgJEAI#v=onepage&q=types%20of%20mountain%20bikes&f=false. Amazon. Accessed August 15, 2022.
Sam Fury. A Complete Introduction to Mountain Biking: MTB Tips for Beginners: Techniques, Maintenance, Safety and More! SF Nonfiction Books, 2022. https://books.google.com.ph/books?id=jHh5EAAAQBAJ&pg=PT35&dq=tips+to+ensure+safety+while+mountain+biking&hl=en&sa=X&ved=2ahUKEwin2d2-xcr5AhXomFYBHUmkCV4Q6AF6BAgGEAI#v=onepage&q=tips%20to%20ensure%20safety%20while%20mountain%20biking&f=false. Amazon. Accessed August 15, 2022.