I was just looking and I've made over 80 videos working on bikes. Nearly all of those videos had me clamping a bike into a repair stand.
This doesn't even count the number of times I've wrenched on a bike without the camera rolling.
I've learned that a solid repair stand isn't just a tool; it's a game-changer. The Feedback Sports Pro Mechanic HD Repair Stand, designed to handle bikes up to 100 pounds, is my new first choice in the workshop, and here's why it should be yours too.
TL;DR: The Feedback Sports Pro Mechanic HD Repair Stand is a game-changer for anyone working on heavy bikes, combining ease of setup, exceptional stability, and robust construction. It's a must-have for both professional and hobbyist mechanics dealing with hefty e-bikes.
Ease of Setup
Straight out of the box, the Pro HD Stand was ready for action. Its user-friendly design, featuring a quick-release mechanism and a large knob, meant I could set it up quickly without fussing over locking clamps and bolts – a real time-saver during busy repair sessions.
Stand Out Stability of the Pro HD
Stability is paramount, especially when you're wrangling a 90-pound e-bike. The Pro Mechanic HD's overbuilt design ensures it stays put, no matter how much the bike and I dance around during repairs. I remember working on a particularly tricky derailleur adjustment; the stand's stability made it feel like I was working on a lightweight road bike.
David here, Yup the guy in the video and writing this review. I have 3 bike repair stands at the present moment. The Feedback Sports Pro HD is consistently the stand I'm using most often. The quick clamp with the large tightening knob and strong stable construction make it highly recommended. Not the cheapest, but I consider this a once in a lifetime investment. Check current prices over at Amazon 👉 Feedback Sports Pro Mechanic HD Repair Stand
The Bike Clamp – A Mechanic's Dream
This clamp is a standout. It's robust, all-metal, and the one-handed operation is a breeze. The rubber-coated jaws are gentle yet firm – perfect for holding those bulky e-bike frames without a scratch.
Pro HD Key Features and Their Benefits
After extensive use, here are the features that make this stand a must-have for anyone serious about bike maintenance:
Oversized, Anodized 6061 T6 Aluminum Construction:

Benefit: Lightweight yet durable, ideal for heavy-duty use with large e-bikes.

Stiff Tripod Base with Rubber-Coated End Caps:

Benefit: Unmatched stability, crucial for managing heavy and unwieldy bikes.

Optimized for Bikes over 70lbs, Maximum Capacity 100lbs:

Benefit: Versatile enough to handle a wide range of bicycles, from sleek road bikes to robust e-bikes.

Oversized Rear Tri Knob for 360-Degree Rotating Clamp:

Benefit: Easy access to every part of the bike, making complex repairs simpler.

Strong Clutch Design for Holding Bike at Any Angle:

Benefit: Securely holds the bike in place, allowing for repairs at various angles without any slippage.

Portable and Compact Construction, Weighing 18lbs:

Benefit: Easy to move and store, a boon for both workshop and on-site repairs.
Pros and Cons to Consider
| | |
| --- | --- |
| Pros | Cons |
| Ease of Setup: Quick-release mechanism and large knob make it user-friendly. | Slightly Heavier: A bit heavier due to its robust build, though still manageable. |
| Stability: Exceptionally stable, even with heavy e-bikes like the Himiway Cobra. | Price Point: Higher cost compared to some other models, but justified by its features. |
| Robust Clamp: All-metal construction with rubber-coated jaws for secure and gentle bike holding. | |
| Angle Adjustment: 360-degree rotation with a large, easy-to-use knob for precise positioning. | |
| Height Adjustment: Wide range, easily adjustable to over 5 feet, reducing back strain. | |
| Portability: Weighs about 16 pounds and folds to 45 inches long, making it easy to store and transport. | |
| Durability: Built to last with the option to replace individual parts, enhancing long-term usability. | |
| Versatility: Suitable for a wide range of bikes, including heavy e-bikes. | |
Bike Angle Adjustment
The 360-degree rotation is a lifesaver. I could tilt and lock my heavy e-bike in place, focusing on the repair without worrying about the stand. It's features like this that make the Pro HD stand out in the crowded market of bike repair stands.
Height Adjustment – A Back-Saving Feature
The height adjustment is a godsend, especially when working on larger bikes. Raising the bike to a comfortable working height means no more back strain, a feature that any mechanic will appreciate.
Portability
Despite its robust build, this stand is surprisingly portable. Moving it around my workshop or taking it to different locations is hassle-free, which is essential for any mobile mechanic.
Durability and Maintenance – Built to Last
The stand's durability is unmatched. Its robust construction and availability of replacement parts mean this stand isn't just for now – it's for life.
Final Thoughts: A Stand That Stands Apart
The Feedback Sports Pro Mechanic HD Repair Stand isn't just another tool in the workshop; it's the backbone of my bike repair setup. Its robust design, coupled with user-friendly features, makes it an invaluable asset for anyone serious about bike maintenance.
As someone who has put it through its paces, I can confidently say it's a stand that will elevate your repair game to new heights.
Check It Out on Amazon: After thoroughly testing the Feedback Sports Pro Mechanic HD Repair Stand, I'm convinced it's a top-tier choice for heavy-duty bike repairs. Don't just take my word for it – click over to Amazon with this shortcut link 👉 Feedback Sports Pro Mechanic HD Bike Repair Stand to see this stand's impressive specs and understand why it's a game-changer in bike maintenance.
Ready to take your bike repairs to the next level? Check out the Feedback Sports Pro Mechanic HD Repair Stand 👈 on Amazon and see for yourself how it transforms the bike repair experience.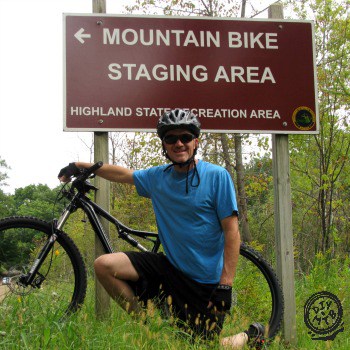 David Humphries is the creator of DIY Mountain Bike. For me a relaxing day involves riding my mountain bike to decompress after a long day. When not on my bike I can be found wrenching on it or making YouTube videos at 👉 DIY Mountain Bike Read more about David HERE.