What is the best Mongoose bike? If you are familiar with the brand Mongoose, you probably know how excellent the mountain bikes they manufacture are. With so many bike models the company has produced, you probably wonder what the best ones are (I know, I was wondering the same thing).
In my experience, one of the best mountain bikes manufactured by Mongoose is the Boot'R. It features a Tectonic T2 aluminum frame and Tektro Slate T4 levels. The other great MTB's after the Boot'R are:
Tyax Expert 27.5
Fireball SS
Argus Trail 26
Tyax Comp 29
There is no denying that Mongoose is one of the top manufacturers of mountain bikes. For this reason, the features that its MTBs offer provides you with nothing but the best. (source)
What is the Best Mountain Bike? And Four More That Follows
Mountain biking is exciting, so it's no wonder it's of the most popular types of cycling. This factor causes a high demand for MTBs, which in turn causes the manufacturers to develop high-end bikes using new technologies. Such is something that Mongoose is good with.
Pro Tip: Folks keep asking me if Mongoose Bikes are any good. My response is the same, don't let those beginner MTB bikes in big box stores taint your vision – Yes Mongoose makes Great MTBs. Read more in this article – What are Mongoose MTBs Good For?
Mongoose released its first bike in 1974. So, it is safe to say that the brand is already among the most established ones in the industry. For this reason, you will get several answers if you will ask what the best Mongoose Mountain bike is.
The Mongoose Boot'R is an impressive downhill mountain bike. It has a sturdy frame equipped with minimal touches that you would not usually see on downhill MTBs. The frame features a 1.5" head tube and a low-stack internal headset that keeps everything low.
Additionally, the top and down tubes both have multi-profiled shapes that promise stand-over height and stiffness. It also features a full 8 inches of front and rear suspension travel. This feature has the same free-floating suspension technology used in the Teocalli.
On the other hand, the bike frame has clean lines, thanks to Mongoose's internal cable routing technology. The Mongoose Boot'R also has an:
X-Fusion coil cover rear shock
Inverted dual-crown Manitou Dorado Expert fork
Tektro Slate T4 brakes
Shimano Zee 1×10 drivetrain
Schwalbe Magic Mary 27.5″ × 2.35″ tires
Sun Ringle Duroc 35 rims (source)
Are you looking for what is the best Mongoose bike with high-end quality? Check out the Tyax Expert 27.5.
One of the favorite Mongoose high-end bikes by many mountain bikers is the Tyax Expert 27.5" MTB. This one is a professional-grade mountain bike that will no doubt work well even after years of use.
One of the best features that this mountain bike offers is the variability of use. For this reason, you can use this mountain bike for different types of riding.
The bike has a lightweight Tectonic T2 aluminum frame. To keep the weight down and the pedals speeds high a 1 x 12 Scram drivetrain with aluminum cranks. The lightweight frame will let you conquer long days in the saddle with ease.
Moreover, the Tyax Expert is a hardtail which improves grip on climbs and gravel rides. The suspension fork with 100mm of travel sucks up rocks and roots with ease. That high speed descent is controlled with hydraulic disc brakes. Read how to clean disc brakes HERE.
Other features include:
Shimano SLX SL-M7000, 12-speed shifters
Deore RD-M5100 rear derailleur
Tektro HD-M290 brakes
Xposure Kraton grips (source)
3. Fireball SS
If you want to know what is the best Mongoose BMX Dirt Jump Bike, look no further than the Fireball SS. It has an excellent aluminum frame geometry with the top tube that provides plenty of room for cyclists to maneuver in the air. Meanwhile, the 435mm chainstay length promises utmost stability.
The Fireball is equipped with a single speed 12T rear cog and a bullet proof KMC Z510 chain. The 100mm fronk fork from Manitou absorbs punishing jumps while the rear hydraulic brakes tempers this beast.
The Tectonic T1 Aluminum frame sports 26 inch wheels and a 9mm X135mm dropout. Cables are routed internally for a clean look that allows aggressive stunts and jumps without tangling.
The Fireball SS has a head angle of 69 degrees, chainstay length of 415 mm. The all important wheelbase measures in at 1055mm.
Built for jumps and stunts feel confident the Fireball SS isn't going to fail.
4. Argus Sport 26
So, what is the best Mongoose bike for different kinds of trails? The simple answer is the Mongoose Argus Sport 26 fat bike. It features massive 4.8 inch tires built for sand, snow and any low traction surface you can throw at it.
Back when fat bikes are only for riding on the beach or in the snow. But thanks to the technology that Mongoose has, it made the Argus Sport 26 is a lot more comfortable and reliable. With a 1 x 10 Shimano drivetrain for smooth shifting this might turn into an everyday trail beast.
The Argus Sport has all the components that you can expect on a fat bike. The Tectonic T2 aluminum frame is durable with internal cable routing to keep a clean design. (a huge bonus is that internal cables make cleaning your fat tire boy a snap)
MTB Tip: If a Fat Tire Bike is in your future seriously consider the Argus Sport, to check out availablity and prices here's a quick link to Amazon and the Mongoose Argus Sport
The modern fork tube allows you to upgrade to a suspension fork, but those massive 4.8 inch tires will swallow bumps and boulders with ease. Responsive hydraulic disc brakes stop even in wet, snowy conditions.
I love the 1 x 10 drivetrain, it allows for simple gear changes with a less complicated handlebar setup. I truly believe that 1X systems are going to take over the bike gear shifting market.
There are many answers to the question, "what is the best Mongoose bike." But one of the top answers is the Mongoose Tyax Comp 29. While this mountain bike does not have the most extraordinary fork, it can still travel smoothly on different terrains.
The frame is cautiously built and has chunky hydroformed tubes. That makes every ride excellent and hassle-free.
Moreover, this mountain bike is lighter than other Mongoose bikes. It is also more affordable. Still, the bike can provide you with a smooth experience on rough roads.
The engineers from Mongoose worked hard to make the Tyax Comp 29 light and stylish. It combines lengthened tubes and short stems that provide cyclists with the most balanced and comfortable position. This structure looks fantastic along with the oversize tires, making it perfect for cyclists with a height of up to 6'2''. (source)
How To Find the Best Mongoose Mountain Bikes?
The Mongoose brand is distributed by Pacific Cycle. Pacific Cycle is a division of Dorel Industries. Mongoose introduced the MotoMag One under BMX Products, Inc. It first came into the market in 1974 with Skip Hess, its founder.
Mongoose is a breakthrough in the field of mechanical engineering. For this reason, it was able and can still provide mountain bikers with what is the best Mongoose bike.
But regardless of how excellently produced a mountain bike is, you will not be able to get the best benefits if your chosen MTB does not fit your needs and demands.
That said, take a look at the table below to know the bike components that you need to look at:
| | |
| --- | --- |
| Bike Components | Description |
| Bike Frame | The main body of the bikeIt can be made of aluminum or steelVaries depending on the type of bike that you are looking for |
| Drivetrain | The gearing allows the bike to move forward while you are pedaling. Labeled based on the gearing rangeYou can calculate the range of a drivetrain depending on the number of potential combinations between the front and rear gears. |
| Suspension | Described as the small shock absorbers for the front wheelMakes the bike more controllableIf you are looking for an MTB, the suspension is essential as it provides optimal traction that offers safety. |
| Brakes | Has two types: rim brakes and disc brakesThe rim brakes clamp down onto the rim of the wheelsThe disc brakes work similarly with the braking system of a car. (source) |
Moreover, here are the things that you need to look at when choosing a mountain bike:
Choose the type of mountain bike
If you want to know the best Mongoose bike, you need to look at the type of MTB you plan to purchase. This way, you will be able to find the right bike that fits your requirements. Here are the types of mountain bikes:
Downhill Mountain Bikes
Cyclists mostly ride this type of bike in lift-serviced bike parks. Such mountain bikes are rugged, and using them requires riders to wear body armor and full-face helmets. It is to protect them when encountering jumps, rock gardens, berms, and wooden ladders.
Read more about downhill riding in this article – What is Gravity Mountain Biking
Trail Bikes
People who want the best Mongoose bike for different types of riding should look at the company's trail bikes.
A trail bike, interestingly enough, is the most common mountain type of bike and biking style. The reason is that the trail biking category does not fall into any particular type of racing. It is also perfect for cycling on various descents and climbs; a trail bike is suitable for you if this sounds like your kind of ride.
Fat Tire Bikes
If you are asking what is the best Mongoose bike for beginners, you should check the different fat bikes that the company offers.
As the name suggests, fat-tire bikes have oversized tires ranging from 3.7" to more than 5". This mountain bike works very well on different tractions, especially in snow or sand.
Additionally, fat tire bikes are perfect for beginners. Their wide tires are forgiving even if you make mistakes.
Cross-Country Bikes
Cross-country bikes are suitable for mountain bikers who like to ride fast and require climbing powers. Such a type of bike focuses on low weight and efficiency. It can also be great for cyclists who want to try competitive riding.
All-Mountain Bikes
You can compare an all-mountain bike to trail riding on steroids. However, the difference is that it has more significant leg-burning climbs and scarier and longer descents. It also has more technical features.
Additionally, all-mountain bikes perform well on steep trails and are light enough to pedal uphill.
Select the wheel size
What is the best Mongoose bike? The answer also depends on the size of your MTB's wheel size. MTBs have various wheel sizes:
Each wheel size will tell how far your mountain bike can go and how well it will work on different trails. For instance, a 29er MTB accelerates slowly.
Frame materials
The most common material used in making mountain bike frames is aluminum alloy. Depending on the price of your mountain bike, its aluminum frame can either be heavy or light. But the lighter the frame is, the better it will work on terrains.
On the other hand, materials used for mountain bike frames are carbon fiber, steel, and titanium.
Carbon fiber frames are standard on fat-tire, cross-country, high-end trail, and most mountain bikes.
Steel is the most affordable frame that offers a smooth ride. However, it can be relatively heavy. For this reason, it can be challenging to find what is the best Mongoose bike that has a steel frame.
Finally, titanium is a light and strong material for bike frames. The only problem is that it can be expensive. But if you are willing to spend a few bucks more for an MTB, you can easily find the best Mongoose bike with a titanium frame.
MTB brakes
There are two types of brakes for mountain bikes: disc brakes and rim brakes or V brakes. Both these brake types can be found on what is the best Mongoose bike.
Disc brakes use brake pads similar to a car (not the drum type of brake, though) that grip the brake rotor connected to the wheel hub. It has two versions: hydraulic brakes and cable-activated brakes.
Hydraulic disc brakes are more progressive and have stronger braking. Meanwhile, cable-activated brakes need manual adjusting once the pad starts to wear out. Learn how to install disc brakes with this article – How to Install Disc Brakes on a MTB
On the other hand, rim brakes are standard on entry-level bikes. Mongoose offers many entry-level bikes, so you can easily find out what is the best Mongoose bikes at an affordable price.
Moreover, rim brakes have pads that firmly grip onto the wheel rims. (source)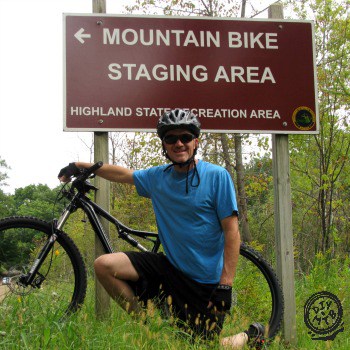 David Humphries is the creator of DIY Mountain Bike. For me a relaxing day involves riding my mountain bike to decompress after a long day. When not on my bike I can be found wrenching on it or making YouTube videos at 👉 DIY Mountain Bike Read more about David HERE.
Sources
How To Choose Mountain Bikes, https://www.rei.com/learn/expert-advice/mountain-bike.html, accessed September 20, 2021.