The best knife for mountain biking should be sharp and small to pack away easily.  You don't want something heavy, but the blade needs to be long enough to cut vines and twigs out of your bike gears.
With all the choices, I thought I'd narrow down the best from experience and reviews. A couple ones stood out from the others due to their features. My recommendation:
The Kershaw Blur Camo Pocket Knife is the ideal knife for mountain bikers. It has a sleek design with a steel blade coated with carbon. This knife also has a pocket clip for safe usage.
Best Knife for Mountain Biking
Mountain biking is full of risks. For this reason, you need to carry a pocket knife when mountain biking. Not only can it protect you when you venture into the wild, but a knife can also help you during certain circumstances. With bikepacking becoming popular, lots of folks are looking at the gear needed for overnight camping with a mountain bike.
For instance, you can use your pocket knife as a survival tool when you need to stay in the woods overnight.
Since a pocket knife is helpful for many circumstances, you need the best knife for mountain biking.
Why Should I Bring a Knife When Mountain Biking?
If you are contemplating whether or not you should bring a knife for mountain biking, here are the reasons to do so:
Practicality
You will need to pass through unconventional routes when mountain biking. If you are biking with a group, they might suddenly decide to stay in the woods overnight. At times like these, a knife will come in handy when you need to cut ropes and woods or when you need to open canned goods.
Self-Defense
When biking into the woods, you have a super low chance of encountering an animal or person that would threaten you. BUT if carrying a folding knife provides a sense of security and gives you confidence take a knife.
How To Safely Carry a Knife When Riding
Once you have the best knife for mountain biking, you need to carry it safely. You do not want to alarm your fellow bikers by letting them see that you are carrying your knife in an unsafe manner.
That said, remember these points when carrying your pocket knife:
Find a location where you can quickly draw out your knife.
Conceal the blade to prevent gaining unwanted attention.
Carry the knife in a way that will not hurt you in case of an accident.
The ideal place to hide your knife is your pocket. Such is also the most accessible part of your body, so it will be easy for you to draw it out when needed. (source)
Ensure you check with local regulations about knife concealment. Some states or provinces have specific rules, and you don't want to cross the legal red line.
1. Kershaw Blur Camo Pocket Knife
This mountain biking knife boasts a sleek and stylish design. The blade is made out of steel with a coating of diamond-like carbon. It has a high-quality grip that lets you hold the knife well regardless of when it snows, rains, or other environmental conditions.
The Kershaw Blur Camo Pocket Knife also has a reversible pocket clip with a secure liner lock that ensures safe usage. (source below)
DIY MTB Tip: The Kershaw Blur has got to be the most reliable knife I've owned. Easy to open with the thumbstud, reliable lock and a grippy handle. Short cut link to Amazon to read reviews and check prices -> Kershaw Blur Camo Pocket Knife
2. Spyderco Chapparal Lightweight Knife
This Spyderco pocket knife is lightweight and straight forward yet reliable. The CTS XHP stainless steel blade cuts through hard materials, such as tree branches.
This knife's ergonomic design makes it easy to carry and use. The handle also has a pattern that runs in two directions for better grip. I'd consider the Spyderco Chapparal (Amazon link) a runner up to the Kershaw Blur.
This pocket knife is the best knife for mountain biking, considering its affordability and ease of use. (source below)
3. Cold Steel Finn Wolf
The Cold Steel Fin Wolf features a Scandinavian-style blade, perfect for cutting wood. Cold Steel added a textured Griv-Ex handle to this knife for a secure and tight grip.
A Tri-Ad lock prevents the blade from slipping out of the grip when you are not using it. If you need the best knife for mountain biking, you will find the Fin Wolf, a worthy companion. (source below)
4. Victorinox Cadet
This tool does not only feature a well-ground blade. It also has some useful tools, making it a perfect companion on the trail. The compact design lets you carry the Victorinox Cadet without taking up too much space.
DIY MTB Recommendation: Simple, Functional, Durable and a Locking Blade everything you need for mountain biking. Read more and check prices on Amazon with this link -> Victorinox Cadet
The Victorinox Cadet is also easy to sharpen so that you can use it for an extended period. However, there is no locking mechanism, so it is best to use this knife for simple cutting tasks. (source)
5. Kershaw Leek
The Kershaw Leek is a versatile pocket knife that features a 3-inch blade. The blade is made out of the Sandvik 14C28N steel that boasts corrosion resistance, increased hardness, and edge retention. Such makes this pocket knife the best knife for mountain biking. (source below)
On the other hand, this knife's handle is a 410 stainless steel alloy, ensuring that this knife is of high quality and durability. It also has a tip lock to keep it closed when not in use.
6. Civivi Elementum
If you are looking for a budget-friendly knife that offers excellent quality, the Civivi Elementum is worth having. It has a 3-inch D2 steel blade that can work just as well as its more expensive counterparts.
This knife is also easy to open, so you will not have difficulty drawing the blade out of the handle. It even has a lifetime guarantee if your knife acquires damage in quality and material. (source below)
7. Opinel Stainless Steel Folding Knives
The brand Opinel is hard to beat for lightweight and top-notch knives at affordable prices. Its range of blades are easy to use, light, and can retain their edge over time.
Additionally, you have two blade choices for the Opinel Knives:
These knives are also available in different sizes, but the numbers 6 (2.8 inches), 7 (3 inches), and 8 (3.2 inches) are ideal for mountain biking. These sizes are portable and easy to use so that they can heed to all your cutting needs. (source below)
8. Petzl Spatha
The Petzl Spatha pocket knife has a smooth blade on one end and serrated on the other. This way, you can easily use it for cutting ropes and wood. It also has a hole to attach a tool holder and carabiner.
This knife also features a locking mechanism, securing the blade's open position. The edge will not move with this feature, no matter how much force you apply when using it.
Moreover, the stainless-steel construction of this pocket knife promises durability. (source below)
9. Victorinox Swiss Army Classic SD Pocket Knife
The best knife for mountain biking should be compact and extremely useful. These are the two things that the Victorinox Swiss Army Knife is famous for. It features stainless steel construction, making it durable and sharp.
Apart from the knife, this product also has survival tools. For this reason, you will have all the tools you need once you are on the trail. (source below)
Are Ozark Trail Knives Good?
Ozark trail knives work decently for simple cutting. The brand offers serrated pocket knives, which provide users with deep cutting power for thick objects. Even better, the blades of these knives do not dull quickly, so you get what you paid for.
Moreover, pocket knives need to have durable handles that you can easily hold when cutting things. Such is something that Ozark knives can provide. Their knife handles are sturdy and offer a good grip for safety. This way, the knives from this brand will not slip out of your hand when you use them with force.
Ozark knives are also easy to deploy in case of an emergency. Despite all these features, they feel comfortable in your pocket. (source)
What Tools Should I Carry on My Mountain Bike?
Mountain biking takes you away from the convenience of the city. Once you are on the trail, all you can rely on are your fellow mountain bikers and yourself.
For this reason, you need to prepare yourself for unfortunate circumstances. For instance, you may experience having a flat tire while in the woods.
In this case, you should not only bring the best knife for mountain biking. Instead, it would be best if you had the necessary tools to survive when traveling alone.
| | |
| --- | --- |
| A patch kit and spare tubes | The most common inconvenience you will encounter when biking in the woods is a flat tire. So, bringing a spare tube will keep you rolling. You can also get a patch kit, as it will be helpful when your bike tire only has a minor, fixable hole. |
| First aid kit | A first aid kit comes in handy during trail accidents. For this reason, you need to carry a small kit with Band-Aids, disinfectants, and some medicines when you are out in the woods. |
| Bike pump | Spare tubes and patch kits will not be enough to fix a flat tire. You also need to bring a bike pump to inflate your spare tube after replacing your damaged one. (source) |
What Is a Cleaver Blade Good For?
A cleaver is a versatile knife for slicing and chopping stuff. These blades are rectangular and come in various sizes. For this reason, you can easily find a small cleaver that you can bring when mountain biking.
When mountain biking, you can use a cleaver for cutting branches along the way. You can aim for a long hard swing, and you will cut your target in one swipe.
If you need to thin out a piece of wood, a cleaver is also ideal as it allows you to scrape hard objects easily.
This type of knife is also perfect for chopping, thanks to its wide, sharp blade. A cleaver is suitable for everyday carrying as it is convenient and efficient. (source)
Final Thoughts
Pocket knives are an essential tool for mountain bikers. They serve as a survival and self-defense tool, especially useful when you need to stay in a trail overnight. For this reason, you need to ensure that you have the best knife for mountain biking whenever you go into the woods.
Apart from a knife, tools like spare tubes, first-aid kits, and tire pumps are also crucial when riding. They can keep you rolling in case of an accident or when your tires lose air.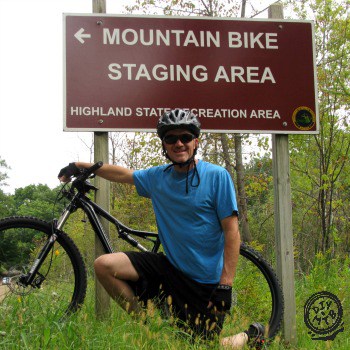 David Humphries is the creator of DIY Mountain Bike. For me a relaxing day involves riding my mountain bike to decompress after a long day. When not on my bike I can be found wrenching on it or making YouTube videos at 👉 DIY Mountain Bike Read more about David HERE.
Sources