The best Garmin for mountain biking should make your MTB adventure better. Of course, bikers would want to track their mountain biking improvement and compare it with their previous records. Your Garmin device should also give you the best routes to take.
The Garmin Edge 530 has a Trailforks integration for you to access trail maps. It has a Forksight feature that shows the trail maps on your screen whenever you stop cycling. The device also has a battery life of up to 40 hours.
Best Garmin for Mountain Biking
GPS computers for mountain biking allow you to log your ride and measure your performance. Some GPS devices also let you navigate your mountain biking path.
If one brand dominates the MTB GPS market, Garmin is undoubtedly that brand. It offers compact units like the Garmin Edge 130 Plus and smartphone-sized models, such as the Edge 1030 Plus.
Regardless of the unit, Garmin GPS offers fantastic features at sharp pricing.
When choosing a Garmin GPS, you will come across multiple choices. For this reason, getting a suitable unit for you can take time. To help you with your choice, we have reviewed the best Garmin for mountain biking.
The Garmin Edge 530
The Garmin Edge 530 is the follow-up to the Edge 520. It packs a functional training suite and a fast processor for better mapping than its predecessor. Garmin claims that the battery life lasts for 20 hours, even 40 hours, on battery-saver mode.
That makes the Edge 530 the longest-lasting GPS device available right now.
A Forksight feature also prompts the device to switch to a trail map screen every time you stop cycling. There is even an overall hang time counter for your entire ride.
Additionally, the Garmin Edge 530 boasts Flow and Grit metrics. The Flow metrics utilize the device's built-in accelerometers to determine how smoothly you ride through a trail. On the other hand, the Flow and Grit give trails a score based on their difficulty.
The metrics use the GPS elevation data and accelerometer data to score trails.
Moreover, you can access the Garmin Connect store using the Edge 530, making it the best Garmin for mountain biking. This way, you will add apps like Yelp, Accuweather, and Komoot. It also lets you download data fields. The Edge 530 can also talk to Varia Radar lights by Garmin.
Specifications
| | |
| --- | --- |
| Connectivity | Bluetooth, ANT+, WIFI |
| Battery Life | 20 hours on regular use |
| Screen Size | 2.6 inches diagonal |
| Navigation | Trailforks Map and Garmin Cycle Maps (source) |
Amazon is probably the best place to get the Garmin 530. Read more reviews and current prices with this shortcut link to Amazon – > Garmin 530 MTB Package
Garmin Edge 530 And Trailforks App
Trailforks, a popular database that offers about 400,000 trails, has partnered with Garmin. The aim is to integrate Trailfork's data into customized mountain biking features and map on selected Garmin Edge devices. One of these devices is the Edge 530.
Here are the features offered by Trailforks and Garmin on the Edge 530:
It includes Trailforks POIs and a custom Garmin base map, including routable worldwide mountain bike trail data.
Let's users search trails from the Garmin menu.
It offers the Forksight mode that displays upcoming forks within the trail. The feature also shows where you are in a specific trail network.
Moreover, you can download and install the Trailforks app on Garmin Edge 530, Edge 830, and edge 1030 Plus for free. Trailforks make it easy to transfer a trail from the Trailforks website or app to the best Garmin for mountain biking. (source)
DIY Mountain Bike Tip: I've dug deep into the Garmin 530 in this article. If you want to go farther, I've got the OWNERS MANUAL. Download HERE
How Do I Connect My Mountain Bike to My Garmin?
A GPS device is a fundamental in mountain biking. Of course, you would want to keep track of how far you have gone and the different routes you can go through. For that reason, mountain bikers opt to use GPS devices whenever they are in the woods.
If you plan to get one yourself, the Edge 530 – the best Garmin for mountain biking – is ideal.
Moreover, a GPS computer is a monetary investment. So, you want to ensure that it mounts securely on your mountain bike as you conquer challenging trails.
Installing The Garmin 530
Choose a secure location where you want to install your Edge 530. Your mounting spot should allow you to easily view the bike computer's screen without interfering with the safe operation of your mountain bike.
Remove the screw from the handlebar connector using a 3mm hex key.
Use a thin pad around the handlebar if it is 25.4mm in diameter and a thin pad if the handlebar measures 31.8mm. Do not use a rubber pad if the handlebar's diameter is 35mm.
Place the handlebar connector around the handlebar, ensuring that the mount arm sits above the bike stem.
Loosen the screw on the mount arm using a 3mm hex key and bring it to the correct position. Tighten the screw once you get your desired mount arm angle.
If you need to change the mount's orientation, use a 2mm hex key to remove the two screws at the back of the mount. Remove and rotate the connector to your desired orientation, and replace the screw tightly after.
Find the tabs at the back of the Edge 530 to the notches on the mountain bike mount. Please press down the device lightly and twist it clockwise to lock it into place. (source)
Garmin has incredible customer support. The Garmin YouTube channel has over 2000 video with detailed instructions for the 530 and many more. Here's my search on their channel – YouTube Garmin 530
Which Garmin Watch Is Best for Running and Cycling?
Apart from being the best Garmin for mountain biking, the brand also manufactures feature-packed watches. Many elite athletes and casual joggers use Garmin watches.
And since Garmin has made a name in the wearable market, it is essential to know which watches are the best for running and cycling.
The Garmin Forerunner 945 Music
This GPS watch boasts itself for having Garmin's latest-generation features. That includes the
PulseOx – a sensor that measures your blood's oxygen level
Body Battery – an energy monitor
Live Event Sharing – allows you to share what is happening to you in real-time.
Accident Detection Assistance – lets people know if you need medical aid.
Training Load Estimation – measures the sum of your excess post-exercise oxygen consumption (EPOC) consumption for the entire week
Like the Edge 530, aka the best Garmin for mountain biking, this watch comes with onboard maps and GPS. This way, you can easily navigate your way out of the woods if you get lost.
There is also the Elevate V3 heart rate sensor, which is considered more accurate than other running watches. It even has an excellent battery life that can last for 14 days with the GPS turned off.
On GPS mode, the battery can run for 36 hours. You can also use the watch to listen to music, and it will last for 10 hours with the GPS and music turned on. (source)
What is Trailforks on Garmin?
Trailforks is the largest MTB trail map database in the world. Apart from mountain bike trails, it also supports other activities, such as skiing, hiking, running, and even horseback riding.
You can easily use the Trailforks app by downloading it to your smartphone or iOS. But if you have the best Garmin for mountain biking, the good news is that it now supports the Trailforks app.
In addition, Trailforks is also available for Garmin wearables.
If you have the following Garmin wearables, you can install Trailforks through the Connect IQ Store:
Quatix 5 and 6
Forerunner 245, 645, 745, 935, 945
Tactix
Fēnix 5, 6, and Chronos
With Trailforks and Garmin's tie-up, you can easily find, select, and view trail routes. Trailforks offers a Route Finder feature that allows you to see recent activities within an area or a popular route. This way, you can easily find a good route to bike or run. (source)
DIY Pro MTB Tip: It's always better to ride with a friend, but read this article on riding alone by Pro Rider Hannah Finchamp – Is it Safe to Ride Alone. https://www.diymountainbike.com/mountain-bike-alone/
Is Garmin Instinct Worth Buying?
The Garmin Instinct is an outdoor watch similar to Casio's sports watches. Like the best Garmin for mountain biking, it offers outstanding durability, thanks to its fiber-reinforced polymer casing. It is also scratch-resistant and has a chemically strengthened glass and raised bezel to protect the screen.
The center of the Garmin Instinct is a 23mm x 23mm transflective display that offers a resolution of 128 x 128. However, it is not a touchscreen, so you need to use the five physical buttons to control the watch's settings.
Moreover, the Garmin Instinct features:
Real-time breadcrumb trail
point-to-point navigation
Outdoor tracking modes
Supports pool and open water swimming (source)
Is It Worth Buying?
Considering all the features and durability mentioned, the Garmin Instinct is undoubtedly worth buying. It is a reliable device for running, mountain biking, and even winter activities.
And though it does not have the mapping feature that the best Garmin for mountain biking has, its outstanding features make the Garmin Instinct a fantastic device.
Additionally, the Garmin Instinct is light and small, so it will not look bulky on your wrist.
Final Thoughts
There is no doubt that Garmin makes the best devices for mountain biking and other sports. With its tie-up with Trailforks, Garmin devices let you see the trail maps of a particular area. One of them is the Edge 530.
The best thing about the Edge 530 is its long battery life. It can last for 40 hours on battery-saver mode and 20 hours on normal mode.
You can even find the difficulty of the trails using the Flow and Grit feature. That said, you should go for the Garmin Edge 530 if you are looking for a bike computer.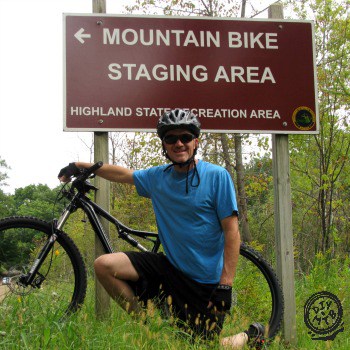 David Humphries is the creator of DIY Mountain Bike. For me a relaxing day involves riding my mountain bike to decompress after a long day. When not on my bike I can be found wrenching on it or making YouTube videos at 👉 DIY Mountain Bike Read more about David HERE.
Sources
"Instinct." Garmin. Accessed January 17, 2022. https://ph.garmin.com/minisite/instinct/instinct/?gclid=CjwKCAiAxJSPBhAoEiwAeO_fP4wEcl1UIRVrgCJljb8j-e4RGmFGRsNkFrUUdOie99dt3QMcSYsMqRoCEikQAvD_BwE.